Hi all, Mike here again!
Before I begin, I know dad fashion is taboo in many places, because as a dedicated dad it's hard to think about yourself, but that's exactly why I'm writing this article!
For years I've bought cheap and cheerful, I had the 'dad bod', the dad ASDA trainers, the 'dad weird branded Tesco clothes', if it was under a fiver you name it, I wore it. Then I decided, it's time to start looking after my looks again, become a little more of me again.
That's why I'm going to be dropping my top dad fashion tips for 2022, including wearables and accessories to make you that stylish guy you were before the kids came along!
Before we start, make sure you find your best fit before ordering, slim fit shirts don't suit everyone and neither do slim jeans, so make sure your foundation choices are solid for what works for you. If they don't suit you and you love the look, then it really doesn't matter, own it and show your style off. But for comfort if you want to play safe, check your comfortable sizes out.
Maximalism.
The word you never knew, but the word you need in 2022. It's the dead opposite of minimalism, you used to think less is more, well it isn't!
Now we'll all be thankful for this – but some iconic fashion from the 90's is really coming back in right now. Loose fitting wide pants, biker jackets, sweatshirts with large logo's too.
Also, some of the most in-fashion items right now are sustainable choices too because of the eco friendly movement, so it's time to check out some eco brands if you already haven't like Save The Duck.
Anyway, before I rabble on too much, here's some of the top dad fashion items and accessories for 2022!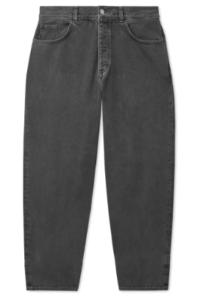 Wide Legs
As I mentioned before, wide legs are back in. Otherwise referred to as barrel-leg these are super comfortable, breathable and won't leave you chafing like the skinny jeans you may usually wear.
Technical Jackets
As winter approaches, it's best to start thinking practically. Jackets such as the North Face Hydrenaline above are easy to wear, element protective and make you look like that super fit dad you've always wanted to be. Works well for cycling too, take that from me!
Polo Shirts
Perfect for that casual lunch trip out or trip to the park, and works with any trouser/shirt set – best thing is they are widely available and priced to any budget!
You also have the option for the cardigan version for that super casual look (that also works with office attire).
Washed Denim
Another timeless piece, will washed denim ever not be in?! Priced well across the market you can either have high-end upmarket branded denim or stick with your £26 NEXT stretches for comfort.
Floral Prints
Now as a dad, you cannot NOT have a floral print, it is law. So it's a good idea to choose the right floral print, right? The print above is the Todd Snyder Seersucker and is a solid return to the 70's for some of you older dads.
Accessories
Bracelets
Bracelets are a quiet, classy addition to really show off your flair. You can customise these with anything you like, just check out the above. You can really add a lot of depth to your attire with this and show off your personality, and the bonus is you still have a wrist for your watch too.
Watches
Simple, or elegant, there's a watch for every outfit.
You can have a casual watch that works for you, and a suit-watch as I like to call them. Something to look good but can take some rough and tumble, and something to put on for those dress up evenings is absolutely essential!
Suit Accessories
Ties, bow ties, pocket squares, cufflinks, tie clips and many more combinations are available to tailor the perfect suit. If you're on a budget, a tie with a clip is timeless, if you have money to spare, take the lot, own it. Tie clips are easy to customise too, so there's another way you can really show off who is under the suit.
Conclusion
Whether you're going casual, fancy, high budget, low budget, it's time to start really looking after your outer-dad. Take those old shirts to the recycling centre and get online, it's time to style out.
There's thousands of options, combinations and accessories to wear. I didn't even touch on shoes, belts and hats because these are really fine-tailored to the person, they are the standout pieces that you can wear. Remember, sometimes life can be about you too, so own it.